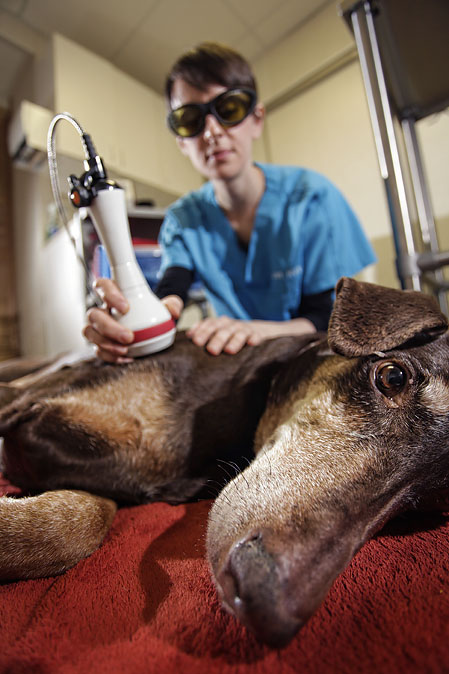 Vets in Sudbury Discuss the Benefits of Laser Therapy
As pet owners, we do not want to see our furry family members in any type of pain or discomfort. What if there was a way to speed up the healing time, lessen discomfort or even provide relief to aging pets? Our vets in Sudbury at Barrydowne Animal Hospital can offer an alternative to more traditional treatments. We are talking about laser therapy. No, our vets in Sudbury are not going to zap your pet with something out of a science fiction movie. Laser therapy is a non-invasive therapy that does not require medications or surgery and the best part is that it is 100% pain free to administer.
What medical conditions can benefit from Laser Therapy?
Vets in Sudbury know that laser therapy may benefit your animal by treating a wide range of medical conditions. It has been used in treating wounds and cuts, infections, sprains and fractures, degenerative joint disease, periodontal disease, skin conditions, arthritis, ear infections, and the list goes on and on. It is also helpful to promote post surgical healing and it is perfectly safe for both dogs and cats. Our vets in Sudbury have been utilizing this technology for 3 years and have seen positive results in our patients. Seniors have more spunk, ears are less irritable, and you and your pet will feel better faster. Our goal at the Barrydowne Animal Hospital in Sudbury is to get your furry best friend feeling as comfortable and pain free as possible.
How does Laser Therapy work?
The laser beam of light stimulates the affected cells so that they produce more energy, thus speeding up the natural healing process. As a result, your pet may feel warmth in the area being treated. The increase in energy within these cells leads to tissue repair and improves blood circulation at the treatment site. It also reduces the formation of scar tissue and improves nerve function, all of which contributes to faster healing for our four legged friends. Laser therapy is able to provide these healing results without the possibility of the dangerous side effects of taking medications. As in human medicine, our vets in Sudbury are always interested in exploring the possibility of implementing non-invasive alternatives to surgery or medications.
At the Barrydowne Animal Hospital our vets in Sudbury, along with our trained technicians, perform laser therapy on a daily basis. They all have the health and comfort of your pet as their main concern. Our vets in Sudbury encourage you, our client, to observe and even participate in your pet's laser therapy sessions. In doing so, everyone becomes involved in the healing process. It is also an opportunity for you as a pet owner to be directly involved in your pet's health care. We would be remiss if we did not inform you that you will have to wear protective goggles during the procedure. These goggles may not be fashionable but safety is our first concern so fashion faux-pas are allowed during laser therapy. All precautions are taken to protect the welfare of your pet, yourself and our technicians.
To determine if laser therapy could be an option for your pet, please contact our Vets in Sudbury at Barrydowne Animal Hospital at 705-566-4243. For more information you can visit our website at www.barrydowneanimalhospital.com or our Facebook page at www.facebook.com/BarrydowneAnimalHospital. Together we can help heal your pet faster!!