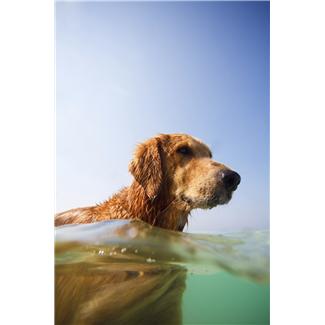 Sudbury Vet Clinic Discusses Pets and Water Safety
 Hello summertime!!!! As the temperature increases, people and their pets will be looking for ways to stay cool and many will head for the water.  The Barrydowne Animal Hospital, a Sudbury Vet Clinic, would like to give you some helpful reminders on how to keep your pets safe when in or near the water.  Just as in humans, panic can set in quickly for animals in the water, and can lead to exhaustion and possible drowning.  Therefore, if you plan on going to camp or to the beach and/or you have a swimming pool, our Sudbury Vet Clinic wants to ensure that your four legged friends will be safe so you both can enjoy their experiences in the water this summer and every other summer to come!!!
If you plan on heading to camp or are going to be frequenting the beaches with your pet make sure that they know exactly how to enter and exit the water safely.  Show your pet where they should be entering and exiting the water to avoid any injuries.  Our Sudbury Vet Clinic reminds you to allow your pet to move at their own pace when swimming.  A good thing to remember is that ALL DOGS are not naturally born swimmers, this is somewhat of an urban legend, and many will need guidance and supervision.  Make sure the water your pet is swimming in is clean and safe as stagnant water can be contaminated by bacteria or parasites such as giardia.  If you would not swim in the water do not let your pet swim there either.  Our Sudbury Vet Clinic wants you to know that blue-green algae is extremely dangerous for your pet and ingesting a small amount could be potentially fatal.  If you are worried that your pet has ingested or swam in toxic water, please contact your veterinarian immediately.  Also, when you are boating, make sure your pet is being supervised so they don't decide to jump ship without you.  Get this; they even make life jackets for our four legged friends so they can stay just as safe as their human companions!!  Our Sudbury Vet Clinic also wants you to know that pets can be susceptible to sea sickness and a nauseated dog can be a real damper to a sunny afternoon on the boat.  Remember this is not their natural surroundings and many may need time to find their "sea legs."
            If you are planning on sticking in the backyard lounging by the pool, our Sudbury Vet Clinic want you to know that pools can expose animals to chemicals such as chlorine, which can cause health problems and skin irritations.  Our Sudbury Vet Clinic advises that you do not allow your pet to drink pool water and make sure your pool has steps so that your pet knows where to enter and exit safely.  NEVER leave your pet unattended at the pool and fence off your pool area to avoid temptation.  Solar blankets can be potential death traps for your pet so be cautious when putting covers over your pool.
            If your pet seems to be spending more time in the water than on land this summer, our Sudbury Vet Clinic advises to clean the ears afterward as water left behind in the ears can cause  infections.  Also, remove the collar after swimming to allow it to dry out as wet collars can cause skin irritation.  Be sure to check areas that may not dry as quickly as others such as the ears, groin, and armpits for any signs of irritation.
Finally, if you do not have a pool or camp or are not planning to be at the beach all summer, our Sudbury Vet Clinic wants you to know that kiddie pools and sprinklers are fun and safe ways to keep you and your pet cool this summer.  For more information please contact our Sudbury Vet Clinic at 705-566-4243 or visit our website at www.barrydowneanimalhospital.com or our Facebook page at www.facebook.com/BarrydowneAnimalHospital.  Have a safe and happy summer from the staff at the Barrydowne Animal Hospital!!