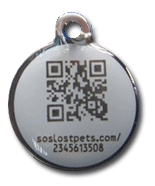 SOS Lost Pets Rabies Tags – Our Sudbury Vets Discuss This New Innovation
Our Sudbury Vets know that we are now living in the electronic age so The Barrydowne Animal Hospital has decided to upgrade our Rabies tags to keep up with the times!!  We are excited to inform you that our new and innovative Rabies tags will now include a quick response code that can be scanned by any smart phone.
What does this mean to you and your furry family member??
Our Sudbury Vets know that our pets are valued members of our family and we want to make sure that you know where they are at all times.  If for some reason your furry friend becomes lost or separated from you, this new tag goes further than before to make sure you are reunited ASAP!!  Registering you pet is as simple as going to http://www.soslostpets.com/ and inputting your pet's information.  OurSudbury vets want you to know that the front of the tag will still have all of the traditional information BUT with this new system, you can do so much more.  You can input vital information such as any health issues or medications your furry friend may require and how you would like to be contacted to be reunited.  You can put a direct link to your phone number, email address or your veterinarian as some of the ways to be contacted in case you and your pet become separated.  It's as simple as scanning the quick response code with a smart phone!! These tags are transforming the way we share information about our pets and they use the power of the internet to work for you and your furry friend.  We know we cannot diminish the anxiety and worry that is caused by being separated from your pet but Our Sudbury Vets feel that this new system will assist tremendously in being reunited quicker than ever before.
For more information please don't hesitate to call Our Sudbury Vets at the BarrydowneAnimalHospitalat 705-566-4243 or visit our website at www.barrydowneanimalhospital.com or our Facebook page at www.facebook.com/BarrydowneAnimalHospital. 
Together we can keep our furry family members safe and happy throughout their lifetime!!