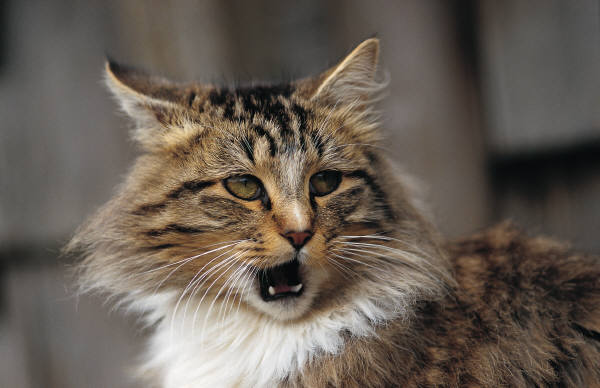 Our Sudbury Animal Hospital Provides Suggestions for Feline Parents to Help Improve Veterinary Experiences
At the Barrydowne Animal Hospital in Sudbury we want your experience at our clinic to be paws-itive for both pet and pet parent.  We know that with our feline family members this is not always the case!!  Some kitties will develop a Jekyll and Hyde complex when they need to be brought to the veterinarian.  They are sweet as pie at home but when brought to the vet they can turn into Tasmanian devils!!  Many pet parents do not bring their feline friends to the veterinarian because they feel the experience is too stressful for the cat and overwhelming for both of you.  Our Sudbury Animal Hospital has some suggestions to make the visit easier for everyone involved.  Also, our team will do whatever possible to make sure that you are both as comfortable as possible!!
We do have some suggestions that may make a visit to the veterinarian less traumatic for both of you:
Bring your cat carrier out a few days prior to the appointment so your feline friend will become accustomed to seeing it.  Our Sudbury Animal Hospital knows that many cats will "disappear" as soon as they see their carrier!!  Let them explore the carrier at their own pace and offer treats during this non-stressful introductory period.  You can also include a favorite toy to make the trip more comfortable for your kitty.  Carriers are a necessary evil as they protect both you and your feline friend in the car.  Please make sure your carrier is secure to avoid any injury during travel.
Let us know that this is a traumatic experience for both of you so we can plan ahead by having a quiet room ready upon your arrival so your feline friend does not have to wait in the lobby with other animals
Try making stops at the vet, just for a visit, so your cat becomes more familiar with the clinic and the staff.  We welcome visits and will make sure to praise your kitty for being brave enough to come in to say hello!!
There are pheromone sprays that have a calming effect so maybe a little spray on the carrier would help to settle nerves.  These pheromone sprays can be applied to bedding in the carrier to create a state of calm. They can be your "secret weapon" when making a trip to the veterinarian.
If car rides are the issue, try taking short trips around the neighborhood to make your kitty more comfortable in the car.  Always reward your feline friend with encouragement and praise after a ride in the car.  Our Sudbury Animal Hospital wants you to take note of the temperature inside and outside of the car as a drastic change in temperature can contribute to anxiety.  If your feline friend is meowing during the ride, try to talk calmly and reassuringly to try to settle frazzled nerves.   Please never leave your pet in vehicle unattended!!
At Our Sudbury Animal Hospital, The Barrydowne Animal hospital, we realize that it is not always an easy task to bring your feline family member in for regular visits but .  It may be a slow process
If you have any other questions please don't hesitate to call Our Sudbury Animal Hospital, The Barrydowne Animal Hospital at 705-566-4243.  You can also visit our website at www.barrydowneanimalhospital.com or our Facebook page at www.facebook.com/BarrydowneAnimalHospital  for tons of information regarding your furry family member.  Together we can create a paws-itive purr-ception for your feline friend when it comes time to visit the veterinarian!!